We understand the difficulties in scheduling just the right speaker that will "connect" with your students. This can be a challenge, however, we have a solution for you for your next High School Assembly!
Attaboy Assemblies has the experience needed to engage your students, while they are sharing the life lessons your students need to hear. They will bring excitement to your next high school assembly, and not only will your students benefit from their teaching, but many teachers and staff have been positively affected by these assemblies.
Your Next High School Assembly Could "Challenge" Your Students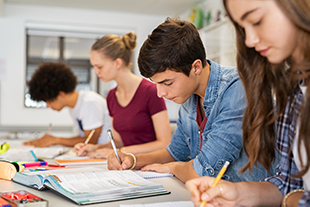 Attaboy Assemblies will challenge your students with their music and message. They bring many years of experience, and they have been specially trained to reach the youth of today. When you plan your next high school assembly, realize what is important for your students and how they will respond to the guest speaker.
A high school assembly can and should be "fun", but if the message does not "challenge" the students, then what would be its purpose? You want your students to leave the assembly encouraged to achieve more in their goals.
Attaboy Assemblies Will "Engage" Your Students
You would desire your students to set goals for themselves, and then to maximize their learning to achieve these goals. Attaboy Assemblies will "engage" your students with their message. They will encourage your students to reach the goals they have set for themselves, and exceed those expectations!
We want to encourage you to schedule your next high school assembly today! Attaboy Assemblies is prepared to assist you with the goals you have set for your students and bring the message that will "connect" with them on a personal level.
Our youth face serious issues today, and you want the best possible outcome for them through your next high school assembly. Schedule Attaboy Assemblies today! Please go to our website and contact us.