Peer pressure is an issue students deal with on a daily basis, starting from their earliest years. If you truly think about it, we also deal with it as adults in the workforce, and in our daily social activities as well. That's why it is so important to get ahead of it and help our students to learn to make good choices for themselves.
As leaders, searching out an Anti-Bullying Speaker can be tough. There are a lot of options out there, and choosing one that is both relevant, and engaging can be a challenge. Attaboy uses music to connect to today's youth, opening the door to deliver a powerful and challenging message.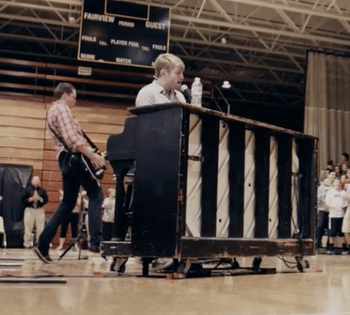 Finding ways to help students overcome peer pressure in a way that feels authentic and pulls hearts and minds in, is what will make a difference. Anti-Bullying speakers have many different approaches, but kids of all ages, want to connect with their speaker. They want to know they are understood. Today's youth need to know that they are hearing a real story, that they are not alone, and making hard choices and standing up for what is right is what matters.
A great Anti-Bullying speaker should leave a lasting impression. Teaching personal responsibility can prove to be a tool our youth will carry with them forever. Peer pressure is often thought of as a negative...but what if we can change that? There can be a lasting impact on bullying behavior in a positive way, with encouragement. For example: Peer pressure can pressure a group member to laugh at others for being different, or peer pressure can support someone and include them because they are different. In a world where we all strive to fit in and be liked, our Anti-Bullying speakers should be able to harness the power of peer pressure by showing our students that our choices in how we treat others is what matters. example: brings a fresh perspective on bullying and peer pressure, and their band sets the stage for growth in young minds.